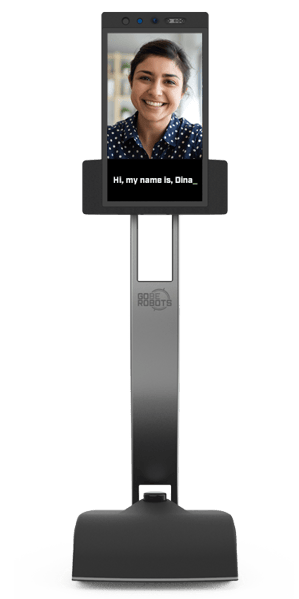 When you demand physical presence.
The GoBe Robot is the world's most advanced telepresence robot. It is purpose-built to meet the needs of Fortune 500 companies and the medical community.
The GoBe Robot has an array of state-of-the-art sensors that ensure you're seen and heard in any environment. Through a web browser, you're able to control GoBe's from anywhere in the world.
The GoBe Robot is the perfect solution for companies that need to stay connected with their employees, customers, and partners. The GoBe Robot is also ideal for doctors who need to be able to see and hear their patients in real-time.
The GoBe Robot is changing the way we work and live.
Crisp video
The GoBe Robot has multiple 4K cameras to ensure the best possible view and safe navigation. The frontal wide-view camera lets you see the room and people right in front of the robot as clearly as if you were there, and the zoom camera (coming soon) lets you focus on even the smallest details, like the brush strokes on a painting or subtleties in a new product design. The navigation camera provides a 360-degree view of the base of the robot and any obstacle on your way
Hear, and be heard.
Echo cancelling microphones allows you to pick up subtleties and nuances that will create a true feeling of presence. The speaker design enables you to express yourself clearly to the people around you in one-on-one situations as well as larger venues., thus allowing you to pick up subtleties and nuances that will help in creating a true feeling of presence.
You will be seen
A 21.5 inch HD touch screen enables you to be seen by the people with whom you wish to communicate as clearly as if you were present right there in the room with them. The touch screen also allows for direct two-way interaction between the pilot and the locals and intuitive communication with the robot. There is no other robot on the market with a screen bigger than this.
Always up to date
Remote Software Upgrades enables you to get the latest enhancements and new functions to your GoBe Robot easy and quickly over the air.
Safety is in its DNA.
The GoBe Robot is fitted with LIDAR and 3D sensors that recognize obstacles on your way and will prevent crashing into people or things. Falling down the down stairwells is just not possible.


Bigger is Smarter
The GoBe Robot will be able to navigate from point to point on its own so that you can save time and focus on the people you want to interact with and the tasks you need to accomplish.
The GoBe Robot is a robust industrial grade robot that has been built with the most advanced features available on a telepresence robot. It is designed to be used in a wide variety of environments, including factories, warehouses, and office buildings.
In the Box
- 1x GoBe telepresence robot
- 1x Charging dock
- 1x Transport Case
Robot Dimensions
-Length: 52,5 cm / 20.6 in
- Width: 45,5 cm / 17.9 in
- Height: 161,3 cm / 63.5 in
- Weight: Robot 45 kg / 99.2 lbs
- Docking Station 9,8 kg / 21.6 lbs
Shipping
(In Original Case)
- 175 cm x 60 x 77 cm, 89.8 kg
Driving Interface and Platform
WebRTC 128-bit AES encrypted, Mac or Windows PC with Chrome or Safari.
- Super Zoom functionality
Collaboration Features
- Multiple Driver Accounts

Fleet Management
- User account management
- Scheduled Access Controls
- Call Quality Reports
- Google Apps Single Sign-On (SSO) Integration
Operating System
- Ubuntu OS
Camera
- 180° UltraWide Full HD Front View Camera
- 360° Full HD Floor View Camera
- 4K Superzoom Camera
Sensors
- Predictive Driving Path*
- Lidar Sensor
- 4 x Time of Flight Sensors*
- IMU Sensor*
Display & Height Control
- Capacitive 21.5 Inch Display Full HD,
- 30 FPS
- Portrait View Multi-touch
Audio
- 4 x 4W Omni-directional Speakers
- Echo and Noise-Cancellation
Remote Software Upgrades
- Seamless Over the Air Updates (OTA) for continued stability and relevance
Wireless Connectivity
- Built-in 4G/LTE Radio
- WebRTC 128-bit AES Encryption
- Minimum Bandwidth Required: 10/10 Mbps
- Dual WiFi Radios
- Enterprise Network Management
Mobility
- 4 Wheels Cursor Control Navigation Light
- 3.2 km/h, Top Speed
- Manage Threadsholds up to 2 cm ADA Ramp Slope Capability (6-degree ramp access)


Battery
- Lithium-Ion Battery with Integrated BMS
- 8-hour Operation Time
- Auto-Docking
Addon's and Accessories
- 4G LTE / 5G Modem
- Travel flight and transport cases
- Additional charging docks
- Fleet management subscription
- Extended warranty "Double Care"
- Robot-as-a-Service business continuity subscription.