The world's first glasses-free, 3D, volumetric, lifesized holographic teleportation display!
Rent
Buy Or Lease
Next Generation
Retail Advertising
Next Generation
Business Communication
Next Generation
Education
Next Generation
Sales Enablement
Actual Customer Use Cases
Sports
Major Tennis Event - Event Promotion
Major European Logistics & Shipping Company (Retail/Sports Promotion)
Large U.S. Sports Network (Super Bowl Athlete Interviews)
Major US Sports Stadiums
All Star Baseball Game (Fan Promotion/Activation)
European Sports Stadium (Fan/Athlete 'Meet & Greets")
Retail & Merchandising
Major Watch Company (Product Merchandising)
Global Mobile Carrier
Large Retail Integrator (Retail Marketing)
Major Watch Company (virtual product launch/intro to Conference)
Large Canadian Shopping Mall (Virtual Fashion)
Major Shipping Company (Retail promotion)
Entertainment & Art
Largest Art Festival (Digital Arts Display)
Major Movie Studio - Major Film Announcement
Live Televised Music Event (Beamed in musical performer)
Major US Carrier (All-Star Game - in Stadium fan promotion w/ Athletes)
Medical
Large U.S. Medical School

(Education & patient care)

International Medical Device

Company (Internal sales/product

marketing)
Conferences & Live Events
Global Communications Tech Company (Tradeshow Product Promo)
Large European Brokerage (Sr Exec Luncheon)
Large European Brokerage (Sr Exec Luncheon)
iHeart Radio (Live events award)
Medtech company (Healthcare Conference)
Keynote & C-Suite Presentation
Large U.S. Brokerage (C-Suite/ Client Speaker Luncheon)
Hospitality Tradeshow Luncheon (Keynote Speaker Beams In)
Office to Office Communication
Global Bank (Corp Communication)
Global Consulting Firm (Corp Comm)
Major European Hotel (Live Beaming/ Virtual Meetings)
Education & Training
International Ship Management Company (Employee Training)
US University for Alumni Speeches and Class Networking
4k live streaming interactive video experience
A mobile app, custom display and cloud-based communications & content management platform for volumetric video
Self Contained 5G or Wi-Fi enabled devices (Epic & Mini)
Patent pending design - shadows & reflections, integrated audio/video/motion/AI; low latency video
capture, transcoding and correction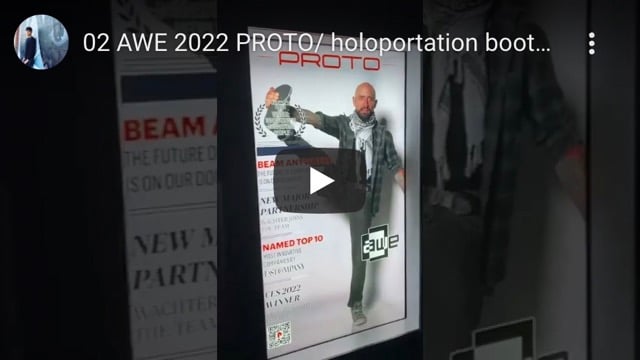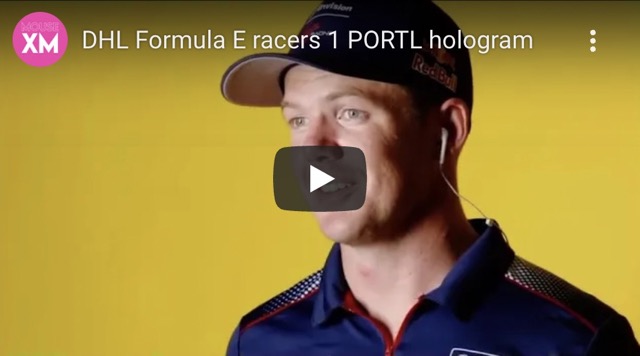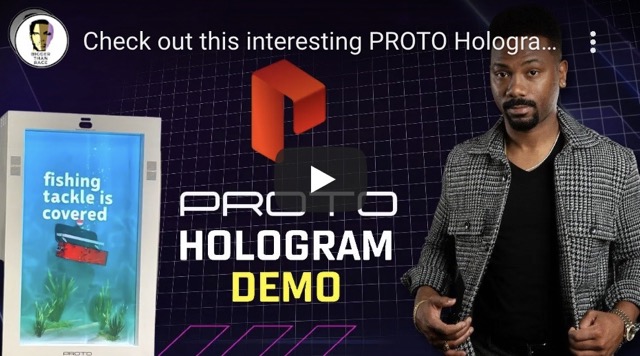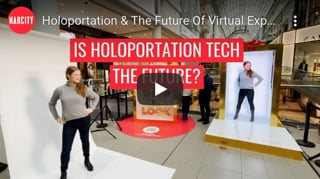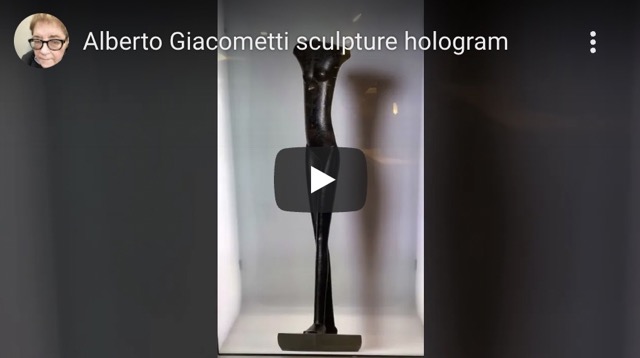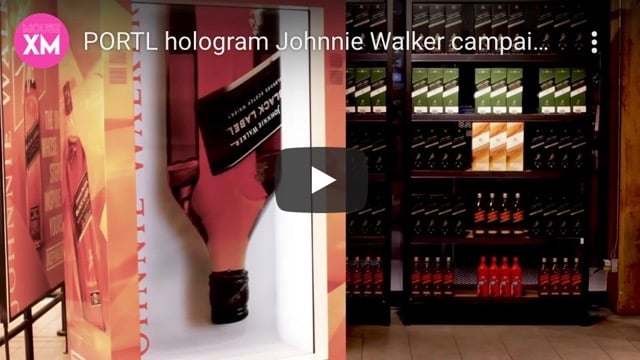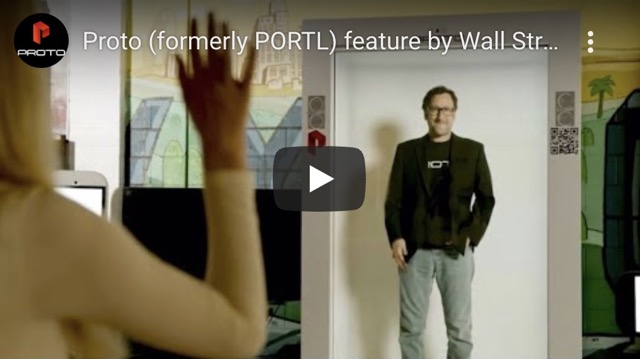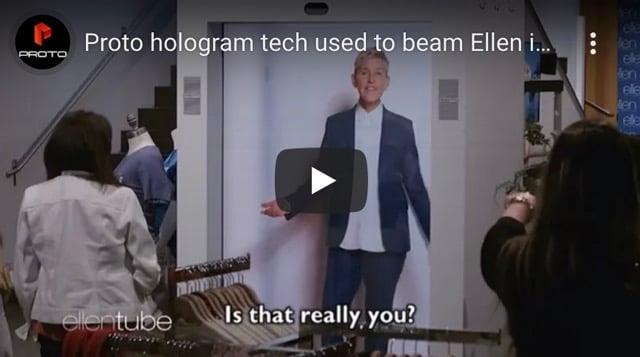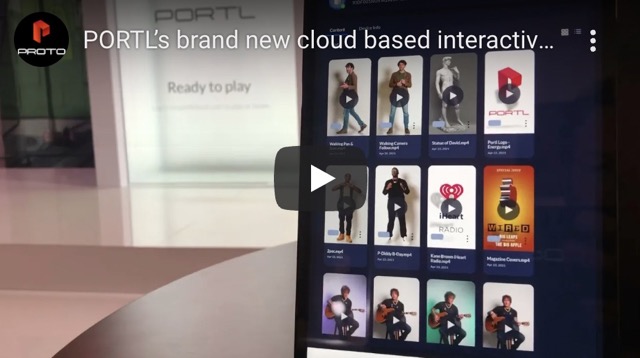 Live stream from here, to everywhere.
Beam content around the globe to one Proto, or hundreds, simultaneously in real time!

Upload and schedule your live and prerecorded content with Proto Cloud.
Manage your Proto units individually or as part of
a global network. Low-latency, high-speed streaming platform to beam your content anywhere in the world.

Mobile Control
With Proto's mobile app, personalise the network
streaming experience with live/pre-recorded dynamic or interactive content. Connect, film and display content from a mobile device instantly into studios, events, and a network of advertising displays.

Standard Inclusions
• Proto Holographic Box
• Power Cable
• Remote Control
• Australia Wide Road Freight Delivery (SG and NZ POA)
• Remote Installation Service (4 hours)
• User Guides, FAQs, Video Tutorials
• 7am-7pm-7days a Week Phone Support (AEST, provided by TeleIn)
• 36-month Warranty From Installation Date
• 36-month End User Licence
• Unlimited Offline Content Delivery, Scheduling and Storage
Size
Width: 137cm
Height: 223cm
Depth: 74cm
Weight: 191kg

Single Use Crate
L: 168 cm
W: 93 cm
H: 248 cm
277 Kg

Multi Use Electric Travel Case
L: 145 cm
W: 88 cm
H: 245 cm
377 Kg
Band Width Requirements for two-way live streaming activations.
Ideal (4k UHD)
Upload: 25Mbps
Download: 25Mbps
Minimum (1440p/1080p)
Upload: 15/10Mbps
Download: 14/10Mbps
Network Connectivity
- Gigabit LAN
- WiFi AC
- 5G via external modem options
Technical Data - Epic
Model Number: HP1000-001
Technical Life Span: 5 Years / 100,000 hours
Operating Altitude: -15m to 3048m
Operating Humidity: 20% to 80%
Operating Temperature: 10-degC to 35-degC
Power: 100-240V 50/60Hz 20A

Technical Data - Roadie Case
Technical Life Span: 100,000 hours of use
Power: 115-230V 1.1 to 2.2 A
Installation Considerations.
The device should be installed in well ventilated, air-conditioned space. Allow a minimum of 8 cm behind the Epic for the air intake and cables and a minimum of 5cm on each side for proper air circulation for the fans to draw and expel air.