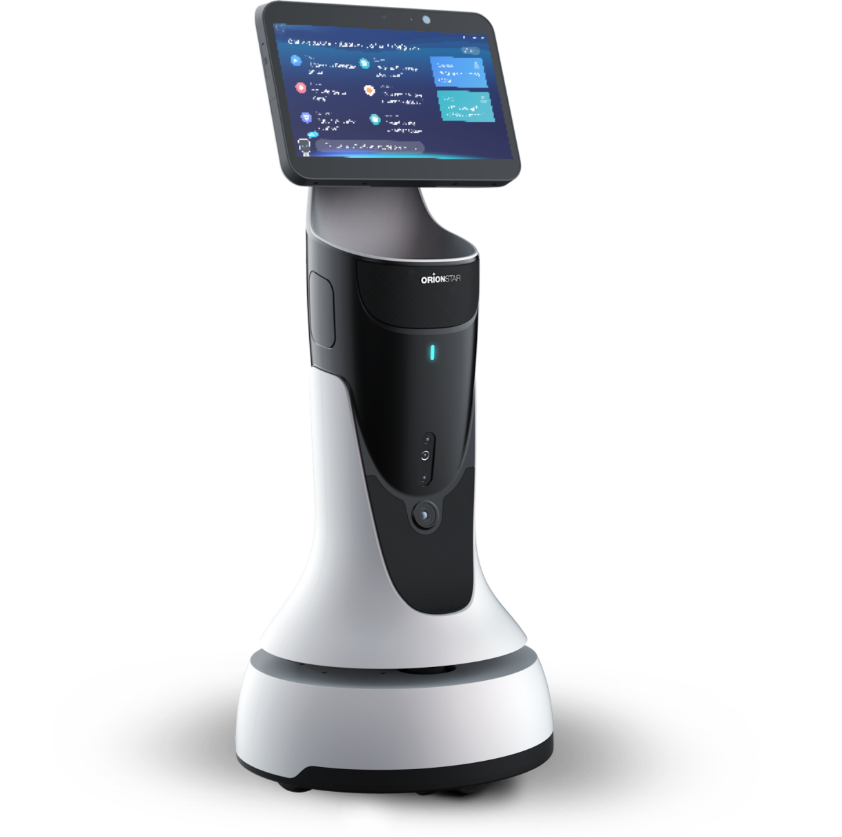 Industry 4.0 standard for reception robotic intelligence.
Its powerful understanding of voice, and large interactive multi-touch screen are perfect for a variety of retail and reception applications. Its small yet robust body is flexible to adapt to a range of retail and lobby environments. the Reception Mini provides customers with an unparalleled service experience.
High-End Visual Experience
The difference between Mini and other robots is clear. With its impressive 14-inch screen, the mini has more information to display at one time thanks in part by ultra high definition resolution making everything on it look clearer than ever before!
Fluent Conversations in Noisy Environments.
Mini has an advanced microphone array that can understand voice commands, even in an overcrowded, noisy environment. The speech recognition accuracy is over 90% at 75dB, thanks to its advanced noise cancelling technology and ability to identify speakers directly in front of the screen.
Clearer, Wider Field of View
With 48 million pixels at its disposal, the Mini's ability to capture light input more efficiently means its night vision capabilities are impressive!
Outstanding Performance, Best Experience
The world"s first robot developed on the Qualcomm platform with one of the most powerful SOC chips in Android and industry-leading performance.
Shocking Sound Experience.
Mini comes equipped with a 30W super speaker and subwoofer and 5 independent sound modules. The effect is comparable to that of a home theatre, with transparent treble, loud midrange, and surging bass.
Perfect for Small and Large Spaces
Mini is a workforce-ready, powerful mobile chassis with a combination of LIDAR and depth camera sensors for accurate route navigation and smart following capabilities.

Strong Scalability
Adaptable to Diversified Retail Needs
Expansion ports and industry standard connections allow for a myriad of expandability to attached POS terminals, RFID readers, barcode scanners and much more!
Powerful Interactive Capabilities
The Mini's sophisticated artificial intelligence guarantees a first-class interactive experience. Mini can detect the presence of people and take the initiative in greetings and interactions. This makes it feel like you're talking to another person rather than an automated system.
Reliable Navigation.
Mini is the perfect solution for tight office and retail spaces. With a minimum channel diameter of 55cm, this device can be operated flexibly in small places and still deliver top performance!
In the Box
- 1x OrionStar Reception Mini Robot
- 1x Charging dock
Shipping
- Box1, 123 x 54 x 53cm, 28 kgs
Size
- 100 x 41 x 41, 21kg
Colour Options
- White & Black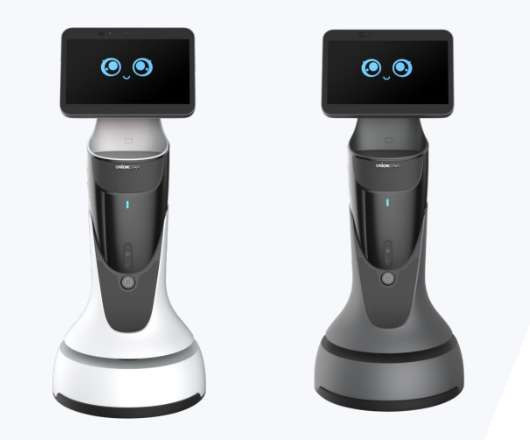 Camera
14-Inch Multi-touch display, 1920px*1080px
Sensors
Stereovision depth sensors
Lidar
Anit-Collision System
Display & Height Control
- 9.7-inch LED-backlit multi-touch LCD
- Remotely-adjustable sitting-to-standing height (120cm to 150cm tall)
- Remotely adjustable screen brightness control
Audio
-6 x Digital microphones with beamforming
- 8-watt full-range speaker
- Bluetooth 4.2, audio accessories such as external speakers and headsets are partly supported (BETA FW)
Processors, Memory, And Storage
Qualcomm Snapdragon Octa-Core CPU.
The world's first robot developed on the Qualcomm platform. Qualcomm Snapdragon
comprehensive performance test data of 26.5W
Antutu platform.
It is one of the most powerful
Android and has industry-leading outstanding performance.
Wireless Connectivity
- Intel Dual-Band Wireless-AC (2.4GHz, 5GHz)
- Bluetooth 4.2
Expansion Ports
Both sides are equipped with RMB expansion boards in standard version, EIB expansion boards, and USB Type-C to support external function expansion modules and equipment to
meet various secondary development needs.


Battery
- Lithium LI-ION internal sealed battery
- 8 Hours continuous runtime
Trim Colours
Available in
- Black
- White
Addon's and Accessories
-
Outright purchase or lease, we can operate anyway your business does.
At TeleIn, we believe that every business should have access to the best tools, regardless of their operational or capital expenditure limitations.
TeleIn provides a wide range of telepresence robots to meet the needs of any business. Whether you need a high-end model for executive meetings or a more basic model for general office use, TeleIn has a robot to suit your needs. TeleIn also offers a variety of purchase and rental options to fit your budget. And with our robot-as-a-service model, you can get the benefits of a TeleIn robot without the upfront cost. Contact TeleIn today to learn more about our Telepresence robots and how they can help your business.
Enquire today for more information and pre-sales enquiries.